Many times it has been seen that false and frivolous cases under section 406, 498-A IPC by the parents of wife have been registered against NRIs even in the cases where both husband and wife are living abroad but families and relatives who are living in India are unnecessarily harassed by Police or are compelled to visit Courts.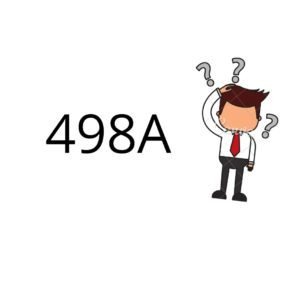 Section 498A IPC provides that "Husband or relatives of husband of woman subjecting her to cruelty, shall be subject to imprisonment for a term of three years and shall also be liable to fine".
Cosnidering that relatives are unnecessarily being harassed by implicating them in cases of section 406, 498A IPC, Hon'ble Supreme Court in the case of Preeti Gupta v. State of Jharkhand 2010 (7) SCC 667 which was filed by married sister and unmarried brother of husband, observed as follows:
27. Admittedly, appellant No. 1 is a permanent resident of Navasari, Surat, Gujarat and has been living with her husband for more than seven years. Similarly, appellant No. 2 is a permanent resident of Goregaon, Maharashtra. They have never visited the place where the alleged incident had taken place. They had never lived with respondent No. 2 and her husband. Their implication in the complaint is meant to harass and humiliate the husband's relatives. This seems to be the only basis to file this complaint against the appellants. Permitting the complainant to pursue this complaint would be an abuse of the process of law.
28. It is a matter of common knowledge that unfortunately matrimonial litigation is rapidly increasing in our country. All the courts in our country including this court are flooded with matrimonial cases. This clearly demonstrates discontent and unrest in the family life of a large number of people of the society.
and it was held that:
36. When the facts and circumstances of the case are considered in the background of legal principles set out in preceding paragraphs, then it would be unfair to compel the appellants to undergo the rigmarole of a criminal trial. In the interest of justice, we deem it appropriate to quash the complaint against the appellants. As a result, the impugned judgment of the High Court is set aside. Consequently, this appeal is allowed.
Therefore, in view of the above-mentioned judgment of Hon'ble Supreme Court, criminal complaints or FIR registered against relatives of NRI husband by the wife based on false and frivolous allegations can be quashed.